Den orginale Anti Aging puten. Brukt av plastikkirurger i Hollywood! Er et revlosjonerende helse og skjønnhetsprodukt. Det forebygger rynker, forbedrer luftflyten som øker kroppens oksygenopptak, god for nakke og skuldre, hjelper deg med restitutisjons tiden etter plastisk kirurgi. I tillegg så hjelper den effekten av dyre anti aging serum og kremer siden ingenting blir dratt av ansiktet mens du sover. Den unike patenterte formen er designet for a støtte hodet komfortabelt mens den hever ansiktet under søvn eller hvile. Dette hindrer kompresjon av hudvev og muskler såvell som bihulene. Den gir også den ultimate støttentil nakke, skuldre og rygg.
Save My Face - La Petite Silke
The "Save My Face®" Pillowette features a double crescent design that supports the head comfortably while elevating the face during sleep. It helps stop premature aging. Pillowette comes with a removable 100% Silk Pillowcase: Luxurious Silk Case! Dry Clean only La Petite Pillowette - 100% Silk gould La Petite Pillowette measures 19" by 10" by 3" and is designed to be used on top of your existing pillow, or for travel. Benefits of the "Save My Face®" Pillowette- Helps prevent wrinkling by eliminating "morning pillow face." Reduces sinus compression improving breathing and oxygen flow to body and skin. Helps retain Anti-aging facial creams & serums on your face. Enhances healing after facial cosmetic surgery and aids neck and back support. The patented double crescent design permits you to sleep on your right or left side without needing to move the Pillowette. The "Save My Face®" Pillowette is filled with pure synthetic fiber that is hypo-allergenic.The pillowcase is removable,and comes with a YKK Invisible Zipper. Manufacturer of the silk recommends to Dry Clean; Made in USA.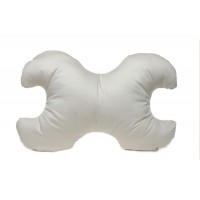 Save My Face - Le Grande
The "Save My Face®" Pillowette features a double crescent design that supports the head comfortably while elevating the face during sleep. It helps stop premature aging."Cotton Series" Pillowette comes with a removable 250 thread count 100% white Cotton finish fabric Pillowcase. Le Grande Pillowette -100% Cotton 250 thread Le Grande Pillowette measures 22" by 15" by 5" and is designed to replace or compliment your existing pillow.Benefits of the "Save My Face®" Pillowette- Helps prevent wrinkling by eliminating "morning pillow face." Reduces sinus compression improving breathing and oxygen flow to body and skin. Helps retain Anti-aging facial creams & serums on your face. Enhances healing after facial cosmetic surgery and aids neck and back support. The patented double crescent design permits you to sleep on your right or left side without needing to move the Pillowette. The "Save My Face®" Pillowette is filled with pure synthetic fiber that is hypo-allergenic and can be machine washed and dried. The pillowcase is removable, washable, and comes with a YKK Invisible Zipper. Made in USA